Patrick Collinson

Friday 24 June 2016 07.04 BSTLast modified on Friday 24 June 201607.21 BST




Precious metal trading at $1,336. 66 on Friday morning, from $1,256.50 when polls closed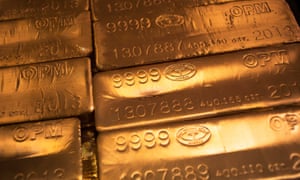 Gold was trading at $1,256.50 an ounce, but it started to accelerate swiftly as early results from the referendum began to feed through. Photograph: Shannon Stapleton / Reuters/Reuters
Gold, the traditional safe haven in times of market turmoil, has soared in value overnight, jumping by 22% in sterling terms in a dramatic indication of worlwide panic over Britain's exit from the EU.
As the polls closed at 10pm last night gold was trading at $1,256.50 an ounce, but it started to accelerate swiftly as early results from the referendum began to feed through.
On Friday morning it was trading at $1,336. 66, a jump of 6.3% in dollar terms, but much more in sterling terms once the fall in the pound is taken into account.
Adrian Ash, head of research at BullionVault.com, said the surge in the gold price was the fastest move against the pound in history.
Live EU referendum result: Cameron to speak after Britain votes leave – live
Rolling coverage of Britain's decision to leave the European Union, with results, analysis and markets reaction
"The surging gold price clearly shows the panic sweeping financial markets. Goldjumped 22% against the pound overnight, its fastest ever move, leaping to new thirdG-year highs above £1,000 per ounce.
"This is just the kind of crisis which gold helps savers and investors insure against."
Since the start of June, transactions on the Royal Mint's online trading platform increased by 32% from the previous month and revenue jumped by almost 150%.
In recent weeks the gold price has been rising not just on fears of a Brexit, but on expectations that the Federal Reserve may be less likely to raise borrowing costs than previously thought.